Company Summary
World of Wine (WoW) is a new cultural and tourist hub in Porto, consisting of six interactive museum experiences and nine restaurants, bars, and cafes created from the restoration of old port wine cellars. It also includes a wine school, several retail shops, an exhibition space as well as an event space. Situated on the south bank of the Douro River, WOW boasts an impressive view of the Dom Luís I Bridge.
WOW aims to bring the history, magic, and emotions behind Portuguese wine, the drinking ritual, and the cork industry while also highlighting other facets of the Portuguese culture including the textiles and fashion industry.
The project's mission is to reinforce Porto's cultural and historical values as well as enhance the region's opportunities in major industries such as wine, industry, and heritage, including increasing tourists' foot traffic in a sustainable way.
Slated to open in August 2020, WOW will include five museum experiences: Wine Experience, Planet Cork, Porto Region Across the Ages, The Bridge Collection, The Chocolate Story, as well as the Wine School, bars, restaurants and shops. Additionally, there will also be experiences designed around fashion and fabrics.
In total, WOW holds over 300,000 square feet—providing a space where culture, tradition and art intersect, for people of all ages to enjoy. This exciting new museum experience is in partnership with The Fladgate Partnership, which owns important brands of Port, including hospitality brands, restaurants, distribution companies, and sustainability brands.
Executive Summary
Chillers with heat recovery can substantially reduce consumption in buildings with predominantly cooling demand and high domestic hot water usage in mild climates. Ice banks are also used to offset production during peak hours.
Start to End Date
31/07/2020 – ongoing
Sustainable Target
Reduction of energy usage and CO2
Partners
A400 | Projetistas e Consultores de Engenharia, Lda.
DTWay | Digitalizing Buildings
Project Description
World of Wine is a complex and spread out development. Several challenges were encountered in its design due to the scale of the development and the fact that it is located inside a protected area that required existing buildings be maintained.
In terms of the HVAC systems, one of the major requirements was that no equipment should be visible on the roofs and that pipes and ducts would have to navigate through existing walls, which led to innovative solutions.
In terms of hot and cold-water production, 4 pipe chiller units were selected mainly due to its efficiency and ability to recover heat and cold when both are required, which is usual in mild climates such as Portugal.
In order to further reduce technical area requirements, all buildings in the development are connected by the same water loops making the main thermal plant the source of all heat and cold.
This has the added benefit of increasing the heat and cold recovery for the whole plant, since it is expected that some areas of the building will heat or cool later than others, further increasing the value in having 4 pipe chillers.
In addition, to further reduce energy usage, a set of ice banks are charged during the night and its cooling energy used during peak hours. This helps lower energy costs by using cheaper electricity during the night as well better manage capacity during the day.
During the design stage, a reduction of 40% in energy consumption for the hot and cold-water productions were estimated.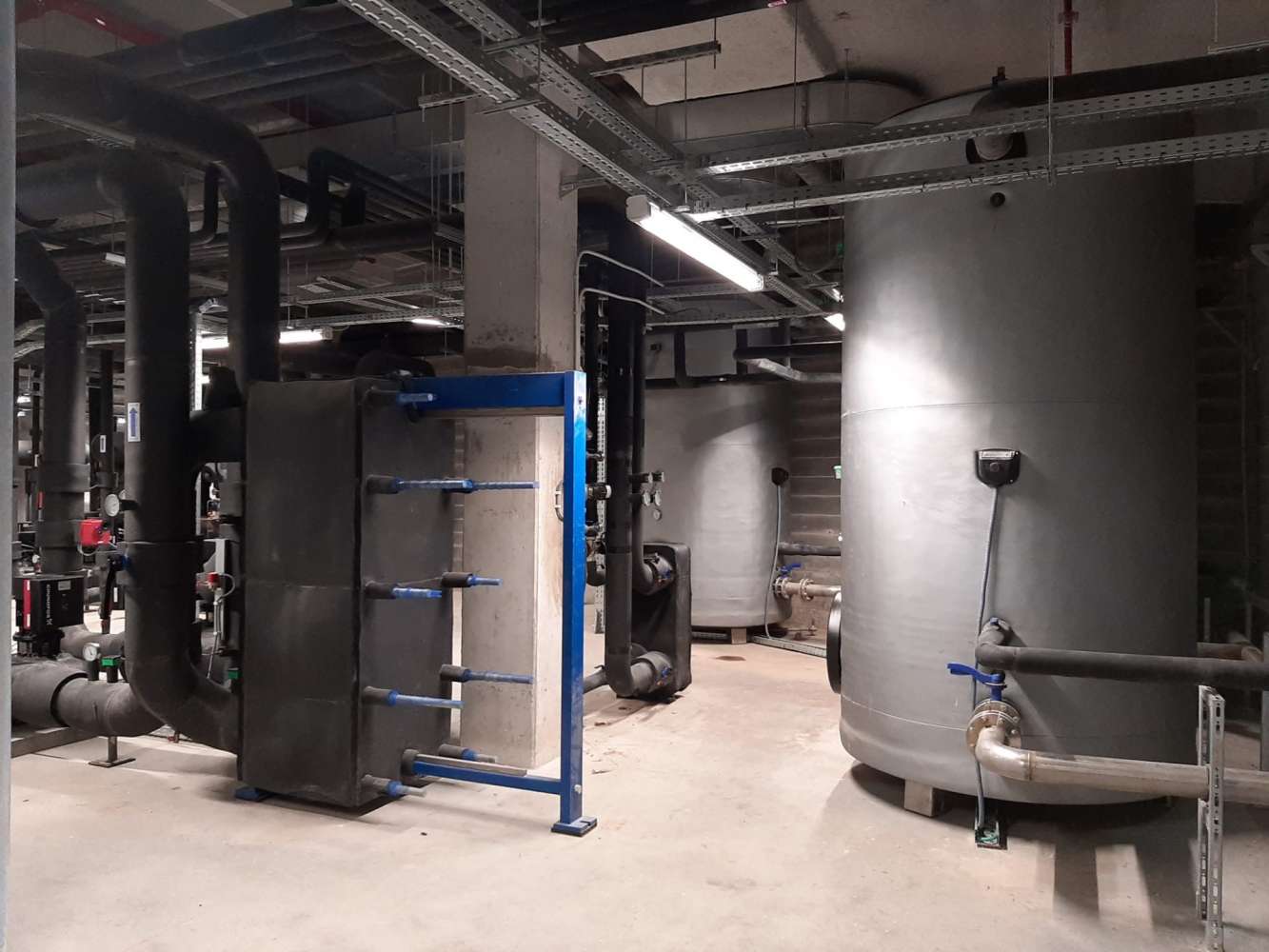 By neglecting the usage of gas in heating, an offset of 50% of CO2 emissions is estimated.
Benefits/Achievements
Although the development is not working at capacity, the proposed reduction in energy costs and CO2 emissions is in line with estimates. Further data is required to confirm the reductions with the total amount of estimated users for the buildings.
Lessons Learned
The added complexity of managing systems with requirements of cold and hot water simultaneously, while considering electricity costs, needs thorough supervision. Due to the pandemic usage patterns for the building have changed substantially which makes programming of system challenging.
Better command and control functions are needed to cope with the added complexity of these advanced systems.
Next Steps
WOW has launched a pilot to prepare the installation of an Artificial Intelligence HVAC management platform. By leveraging the powerful infrastructure that the building has to offer with advanced operation and diagnostics algorithms, further savings and emission reductions are expected.
Potential for Replication
Subsequent stages of the development have been linked with current infrastructure, which allows for some expansion.
Other developments with similar usage patterns could benefit of choosing these kinds of systems, however each adaptation requires a bespoke design.