Company Summary:
Perinet is a spectacular estate vineyard in the Priorat DOQ, located approximately at 90 min. drive from Barcelona. Perinet Winery is an entirely unique asset in the Priorat, in part due to the original developer's approach which made the efforts in carrying out their vision to invest in a premium winery and a tourist destination of excellence.
Perinet estate is a propriety surrounded by local varietals like Carignan and Grenache as long as international French varietals including Cabernet Sauvignon, Syrah and Merlot. The estate features a showcase winery, the jewel of the Priorat. Perinet focuses on boutique estate wines.
The developers of Perinet set about building terraces and finished planting vines by 2002. The vineyards are built on technologically advanced terraces, with a high density plantation. Nowadays Perinet has become a modern winery located in a very traditional region. Different varieties, different wines and techniques make Perinet a place where the past meets the future.
Executive Summary:
The winery used to operate with an isolated diesel generator, since the Priorat area is made up of small isolated valleys and hillsides without access to electricity, and many wineries operate by running a generator. Perinet decided to move into a sustainable energy consumption. Two reasons: environment and cost efficiency (generator rental and diesel consumption). A photovoltaic system was located on the roof of the winery with an aluminium structure system. The project line has been studied in such a way that the location of the panels has the optimal position to maximize performance, as well as minimal interference with the environment for aesthetic reasons. Isolated photovoltaic installation with a maximum power of 80,000W nominal and storage of 144,000W. Installation disconnected from the grid consisting of a structure of solar panels that generate DC (direct current) through the absorption of solar energy. The energy generated by the photovoltaic installation during the daytime solar hours is used as it is produced and in turn the energy cost of the electricity of the generator is reduced. The installation of a nominal 80,000W photovoltaic generator is intended, using 25000W inverters (3 x units), with a three-phase connection isolated from the grid. The total surface of the solar panels is 401 m2.
SDG'S (Sustainable Development Goal):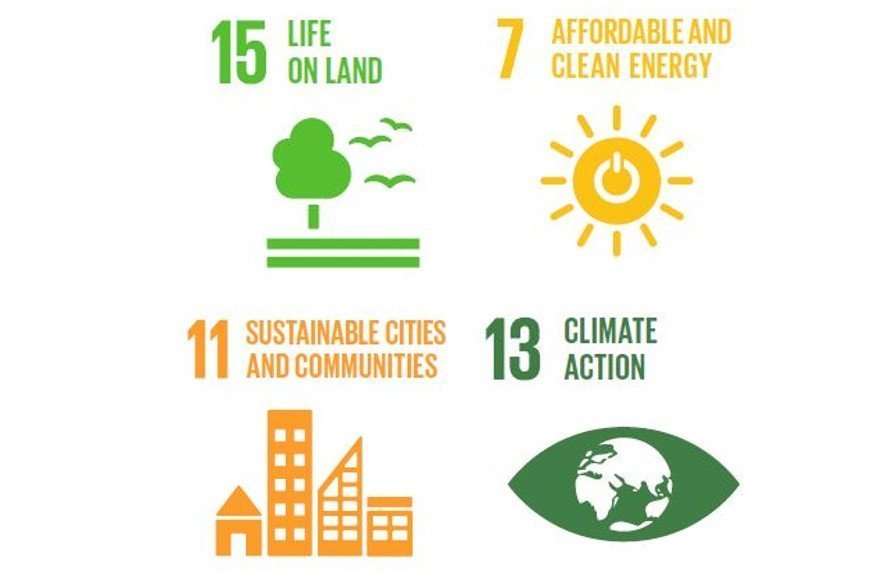 Reason Why/Motivation/Background:
Reduction of CO2 emissions due to the implementation of solar energy for self-consumption with batteries to replace electricity generators with diesel.
Project Description:
Crowdlending allows all types of companies to be financed directly by a large and diverse group of people (crowd = crowd, lending = lend money), without having to ask for the money under the conditions of traditional banking. In the crowdlending model, people lend small amounts of money to a company in exchange for a financial return stipulated in a loan contract. With crowdlending, companies have another alternative to obtain financing for their investments, and with which to benefit from advantages such as the diversification of their sources of credit, or the notoriety derived from using crowdlending as a source of financing.
On the other hand, individual investors benefit from higher profitability, they are knowledgeable and decide how to use their money and in turn generate a positive impact with it.
Benefits/Achievements:
The Ecrowd platform is based on the crowdlending model and specialized in financing investment projects, leading the development of this new sector in our country. The benefits of the Ecrowd platform consist of connecting companies and investors in a fast, transparent and simple way, providing affordable financing to companies and higher returns to investors. There are no intermediaries, no banks, and they operate quickly and with complete transparency.
Installation of isolated solar energy with barriers for self-consumption of Perinet wineries of the D.O.Q. Priorat, which currently gets the entire electricity supply from diesel-powered generators. It will consist of 200 panels with a total power of 80Kw and 60 batteries with a total power of 144 Kw.
The installation has been projected by the company SOLAR IN SPAIN. It is estimated that with the commissioning of this clean and renewable energy facility, CO2 emissions from the winery will be reduced by 96 tons per year, in addition to eliminating noise pollution from current generators.
Additional rewards offered by Perinet to people who invest in this group loan:
Perinet is proud to have your support for our path in the conversion to a more sustainable winery. To thank you for your investment, we want to have detail so that you can enjoy our winery and our wines:
Investors with contributions of up to €500: visit with tasting for 2 people.
Investors with contributions of €525 to €1,000: visit with tasting for 2 people and a bottle of wine.
Investors with contributions of more than €1000: visit with tasting for 2 people, bottle of wine and a 1-year membership in "Perinet Winemakers Club" (with benefits such as up to 20% on the purchase of our wines).
After formalizing the collective loan, each investor will be sent a personalized code to access their reward, which must be used before 12-31-2021.
Result:
The funding was activated for 30 days and got the financing in only 5 days, totaling 266 crowd lenders and totaling 170.000€.
Lessons Learned:
The regular financing bank is sometimes more complicated and it doesn't involve a social impact.
We now have 280 members of the wine club (in addition to the previous ones) that are feeling a part of the project.
We became the biggest solar investment in the area of Priorat
Saving money!
Next Steps:
Offering more activities to our crowd community and they can be engaged more and more (tasting seminars and custom crush wine experience)
Potential For Replication:
Perinet can serve as an example to others.
Helping Ecrowd to get to know other wineries in the area to expand the idea of becoming sustainable in terms of Energy, in fact some city halls are currently wanting to become solar energy based
Sources Of Information/Support:
Ecrowd finances investment cases with more open criteria than banking.
If your investment is viable, productive and with a positive impact, you have the real possibility of obtaining the crowd loan.
You can obtain a group loan in a very agile way. It is quick and easy.
You will not have to contract other financial products to be able to sign the loan.
You can turn crowdfunding into a promotional tool for your company. In our case we got 280 crowd investors that are now joining the wine club and they feel a part of that.
Every time you invest, you generate a positive impact on society.
It generates fair returns for everyone.
The projects we present go through a financial, technical and legal validation process, through the Spanish Central Banking system.
You will be financing the real economy that improves our environment.